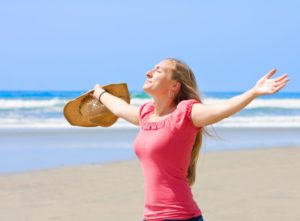 The sun often gets villainized. The media issues frequent reminders about how important it is to wear sunscreen and take other measures to prevent burns and skin cancer. All of that information is valid. However, while it is true that you should avoid overexposing yourself to the sun's radiation, there is another side to the story. This blog post explains how you can soak up the sun for a healthier smile.
The Power of Vitamin D
The sun emits UVB rays. When those rays contact your skin, they interact with a certain protein in your body, which then gets converted into vitamin D3. This nutrient plays an essential role in oral health. Here are a few benefits that it can offer:
Improved calcium absorption. Calcium is vital for strong bones and teeth. However, the human body cannot properly utilize it unless an adequate amount of vitamin D is there to help.
Protection against tooth decay. Some research suggests that vitamin D has the potential to reduce the risk of tooth decay by as much as 50%.
Support for your immune system. Vitamin D can reduce inflammation throughout the body and lower your risk of infections. It can therefore play a role in preventing gum disease.
How Much Sunlight Do You Need?
An estimate issued by the National Institutes of Health states that approximately 1 in 4 U.S. adults have a vitamin D deficiency. That statistics is somewhat alarming, but the good news is that it is pretty easy to increase your vitamin D levels simply by spending a bit more time outdoors.
The exact length of time you should spend outdoors depends on a few factors, such as the latitude where you live, how much melanin is in your skin, how much of your skin is exposed, and more. Generally speaking, most people can get enough vitamin D by spending less than 30 minutes in the midday sun. People with fair skin may need as little as 8 – 10 minutes.
Remember that sunscreen can interfere with vitamin D production. Therefore, you should spend a few minutes outside without any SPF. After that, though, you should be certain to use protective measures.
Other Ways to Get Vitamin D
Due to the weather, your schedule, or other factors, it might not be practical for you to get all of your vitamin D through sun exposure. Fortunately, this nutrient is also available through food sources. For example, eggs, milk, fatty fish, and fortified cereal are all good sources. You could also incorporate a vitamin D supplement into your daily routine.
Are you getting enough sunlight? The time you spend outdoors could have great benefits for your smile!
Meet the Practice
The expert team at Four Town Dental is proud to provide general oral health services for the Enfield community. If you have questions about how you can prevent dental problems, we are ready to offer personalized advice. Contact our office at 860-856-6928.