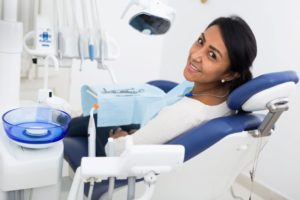 In some cases, the removal of one or more teeth is necessary for a patient's oral health. Will you soon undergo one or more extractions? It is natural if the prospect stirs up some mild anxiety, but there is no real need to worry. Many patients are pleasantly surprised by how easy their experience is. What does a tooth extraction feel like? This blog post provides an overview of what you can expect throughout the treatment process.
Patient Comfort Is a Priority
The vast majority of dentists are kind, empathetic people. They never want to cause pain or discomfort. That is why your care provider will thoroughly numb your mouth during your appointment. It might sting a bit as the local anesthetic is injected, but the sensation should pass quickly.
The anesthetic will prevent you from feeling pain. However, it will not block out feelings of pressure, so you may still be able to feel your dental team working in your mouth.
It is also worth asking if your dentist offers sedation. Sedative medications can dull your body's response to pain and help you enjoy a calm, relaxing dental care experience.
The Tooth Extraction Procedure
There are two categories of tooth extractions.
During a simple extraction, your dentist uses something called an elevator to lift the tooth from its socket. Then, they grasp it with forceps and rock it back and forth until the ligaments holding it in place are broken. Simple extractions are usually quick and cause minimal discomfort.
Surgical extractions are more complex because the tooth might be stuck beneath the gumline. Therefore, your dentist might have to make some incisions or break a tooth into pieces. You might hear some strange noises and experience odd sensations throughout the procedure, but again, there should be no real pain involved.
You Can Expect Bleeding and Soreness
After your tooth has been removed, your dentist will clean out its socket and place sutures if necessary. It is normal to notice some intermittent bleeding in the hours following an extraction, but that can usually be controlled with gauze.
When your sedation and local anesthetic wear off, you can expect to experience some soreness, swelling, and general discomfort. Such issues are usually manageable with painkillers, rest, and other simple measures. Your dentist will give you detailed instructions to help you enjoy a smooth recovery. Most patients are feeling fairly normal within a week or two of their extraction.
If you encounter any serious pain or other concerns while you are healing, be sure to contact your dentist right away. They will evaluate the situation and render the necessary assistance.
Tooth extractions can seem like a scary procedure, but you can trust your dental team to handle your treatment as gently and comfortably as possible.
Meet the Practice
The oral health experts at Four Town Dental offer both regular tooth extractions and wisdom tooth extractions in a welcoming environment. We provide sedation for patients who need extra help to relax during treatments. To learn more about what you can expect throughout tooth removal or other procedures, contact our team at 860-856-6928.