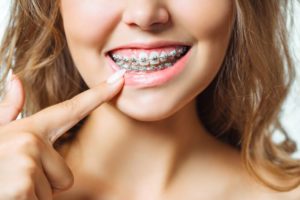 In most contexts, a loose permanent tooth is a cause for concern; you should see your dentist right away so they can diagnose the problem and recommend an appropriate treatment. But what if your teeth feel loose because you are wearing braces? Is that normal? Why do braces make your teeth feel loose? This blog post provides answers.
How Do Braces Work?
To understand why your teeth may feel loose with braces, you should be familiar with the basics of how braces work.
Teeth are not directly embedded in the jawbone. Rather, they are attached to the bone via a piece of connective tissue known as the periodontal ligament. The ligament is somewhat stretchy, and it endows your teeth with a natural capacity for movement.
Basically, braces are effective because they apply consistent pressure to the teeth. They stretch the ligament on one side of your teeth and compress it on the other. This gradually repositions your smile and encourages remodeling of the jawbone so it can securely accommodate your teeth when they are in their new places.
So, Why Do Your Teeth Feel Loose?
Teeth feel loose with braces because as the braces apply pressure, they stretch and compress the periodontal ligament to the point where the teeth actually do become loose. This is a normal and necessary part of the orthodontic process. In fact, if your teeth did not feel loose, it could indicate that your braces were not correctly doing their job.
Also, keep in mind that there is no need to worry that braces will make your teeth fall out. Even as the periodontal ligament is being manipulated, it remains healthy and firmly attached to both your teeth and your jawbone. It will hold true and allow you to maintain a complete smile.
When Are Loose Teeth Something to Worry About?
Of course, if you feel like one or more of your teeth are too loose while you are wearing braces, you should consult your dentist. If you had an accident while you were playing sports or took a fall, the impact could have damaged your jawbone, teeth, or periodontal ligament. It is also possible that an infection or another serious oral health condition is present. Your dentist can assess the situation and let you know what your next steps should be.
Loose teeth with braces are usually nothing to worry about. In fact, they mean that your treatment is working!
Meet the Practice
Four Town Dental Care of Enfield is proud to provide traditional braces, clear aligners, and a broad range of general oral health services to our community. If you have questions about what to expect during a certain treatment, we would be happy to speak with you. Contact our office at 860-856-6928.