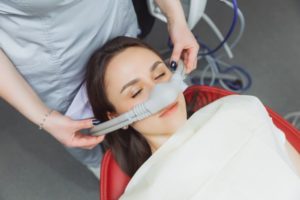 If the prospect of visiting the dentist makes you a little uneasy, you are far from alone. Fortunately, many practices offer sedation to help patients enjoy a relaxing, stress-free experience. As a frugal person, though, you may have questions about how this provision might affect the cost of your appointment. Does insurance cover sedation dentistry? Read on to learn the answer.
Insurance Does Not Usually Cover Sedation
Unfortunately, many insurance policies classify sedation as a purely elective treatment. Because they view it as a luxury rather than a necessity, it is usually not covered. The reasoning behind this approach is that sedation can sometimes cost more than the dental treatment it is being used for. If companies regularly covered sedation, they would need to raise premiums.
Of course, some high-end plans might include a provision for sedation. You should check the details of your unique benefits to see how they apply to your care. Your dental team can help you navigate your policy and use it to your greatest advantage.
Coverage Can Vary from Case to Case
In some cases, insurance companies are flexible with how they cover sedation. They may not normally cover it, but there could be exceptions in certain cases. For example, you are more likely to receive coverage for sedation if:
You require an invasive procedure that necessitates the use of general anesthesia.
You have a medical condition that would make it impossible for you to undergo dental procedures without sedation.
You are going to receive nitrous oxide. (Nitrous oxide is one of the more affordable forms of sedation, so insurance companies may be more willing to help pay for it.)
If you are unsure of whether your insurance will cover sedation in your specific case, ask your dental team to help you get pre-authorization for your treatment plan. Knowing ahead of time what will be covered can allow you to avoid unpleasant surprises when it is time to pay for your procedure.
What if You Cannot Get Coverage?
If your insurance company will not pay for sedation, you might need to explore other options. You may be able to finance the cost of your treatment with the help of CareCredit or another third-party lender. Most patients are eligible for credit, and you may even be able to choose a zero-interest payment plan.
If your procedure will not be highly invasive, you might opt to forgo sedation altogether. Let your dental team know about any fears or sensitivities you have that makes treatment challenging for you. They will make an extra effort to be gentle during your appointment.
Sedation is not usually covered by insurance, but it is worth your time to learn the details of your policy. You might be pleasantly surprised by what you discover!
Meet the Practice
Four Town Dental in Enfield is proud to offer multiple forms of sedation, including nitrous oxide and oral conscious sedation. We are also in-network with many popular insurance plans. To learn how we may be able to help you enjoy an affordable and low-stress dental care experience, get in touch with us at 860-856-6928.