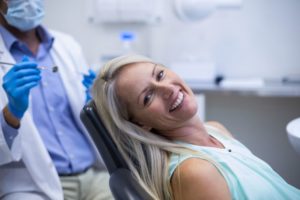 Have you undergone a root canal in Enfield in the past? If so, hopefully you had a smooth treatment experience. Nevertheless, you might hesitate to consent to getting the procedure redone if your dentist recommends it. Understanding the reasons why root canal retreatment is sometimes necessary can help you feel confident about complying with your dentist's advice. In this blog post, you will discover a few common reasons why root canals might need to be redone. You will also get a basic overview of what happens during the retreatment procedure.
Reasons for Root Canal Retreatment
Here is a brief explanation of the two most likely reasons for root canal retreatment:
A tooth has some unexpected anatomical features. It is often difficult, or perhaps altogether impossible, for a dentist to clearly see the tiny, cramped spaces inside your tooth. If there is anything unusual about your tooth's anatomy, your dental team may not be able to remove all the infected tissue during your initial treatment. (This does not happen frequently. In fact, most initial root canals are successful. Problems of this sort are more common with molars than with teeth toward the front of the mouth.)
A tooth has incurred new damage. Soon after root canal therapy, a crown should be attached to the treated tooth. If crown placements gets postponed for a long time, bacteria may have an opportunity to invade the tooth and cause a new infection. Something similar can happen if a crown does not fit well or if it has been damaged in some way.
The need for root canal retreatment can arise anytime, whether it is fairly soon after the initial procedure or years down the road.
What to Expect During Root Canal Retreatment
Depending on the details of your unique case, your general dentist might perform your root canal retreatment. However, it is also possible that they will refer you to a specialist. Either way, you can be sure that you will be in good hands when you are undergoing your procedure.
In most ways, root canal treatment is similar to initial root canal therapy. Your dental team will start by making sure that you are comfortable, perhaps with both anesthesia and sedation. Then, they will access the tooth's interior. They will have to clean out the filling material that was placed during your first root canal. Next, they will remove damaged tissue from inside the tooth and fill the tooth back in. They may also place a temporary crown. The start-to-finish process may take a bit longer than a first-time root canal treatment.
Hopefully, you will never need root canal retreatment, but if you do, you can commit to the procedure with confidence that it is the right thing to do for your smile.
Meet the Practice
The talented team of dentists at Four Town Dental in Enfield are proud to offer root canal therapy and many other restorative procedures. If you have questions about your oral health or any of the services available in our practice, we are ready and eager to speak with you. Contact us at 860-856-6928.