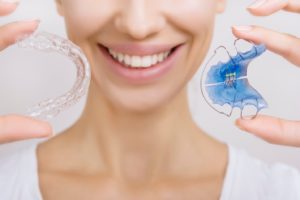 Once you work your way through all of your Invisalign aligners, you have reason to celebrate. Your teeth are now in their ideal positions, and you can begin to fully enjoy the health and aesthetic benefits of a well-aligned smile. However, you still have a bit of work to do. In order to maintain your results, you will have to wear an Invisalign retainer in Enfield. This blog post discusses why your retainer is so important and how long you may have to wear it.
The Importance of Your Retainer
Teeth have a natural capacity for movement. That is why Invisalign in Enfield can shift them into their proper positions. However, without the guidance of an orthodontic device, the teeth tend to move backward, regressing to their previous positions — they have a "memory" that steers them back to where they were before. A retainer solves this problem by serving as a stabilizing force against your teeth. It holds them in their new positions, sparing you from having to redo your orthodontic treatment.
How Long Is a Retainer Necessary?
Wearing your retainer requires long-term commitment and dedication. You should continue to use it as long as you still have your teeth, which ideally would be throughout your lifetime.
At first, you should wear it virtually full time (20 – 22 hours a day), just like you did with your Invisalign aligners. After a few months, your dentist might give you the go-ahead to switch to wearing it only at night. Eventually, as your teeth become solidified in their proper positions, you may need to wear it just a few nights each week.
Getting the Most Out of Your Retainer
There are a few different types of retainers, which can require slightly different methods of care. For example, if you have a Vivera retainer (which looks similar to Invisalign), you should treat it in much the same way as you cared for your aligners. That is to say, you should remove it at mealtimes and make sure to keep it clean. With proper care, a Vivera retainer can last for 3 – 9 months (depending on whether you wear it full-time or just at night).
Hawley retainers, which are usually made out of acrylic and metal, are not as discreet as Vivera retainers. However, they can last for up to 10 years. They should also be removed during meals and regularly cleaned.
Wearing a retainer might seem like an inconvenience at first, but it is necessary to maintain the results of your Invisalign treatment. Hopefully, using and caring for your aligner will soon become a natural part of your normal routine!
Meet the Practice
The team of dentists and specialists at Four Town Dental are proud to offer both Invisalign and Invisalign aftercare services. We even have an on-staff orthodontist who is ready to offer his expertise to patients who are interested in straightening their teeth. To learn more about Invisalign or our practice, reach out to us at 860-856-6928.