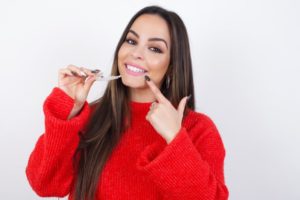 TMJ disorder, which is often referred to as TMD or simply TMJ, is a complex problem that adversely affects the temporomandibular joint (the TMJ, which connects the lower jaw to the rest of the skull). TMD can result in a wide range of symptoms, including headaches, neckaches, painful chewing, and more. If you are struggling with this condition, you might wonder what your treatment options are. The best way to address TMD varies from case to case, but in some instances, fixing TMJ with Invisalign is possible. This blog post discusses how clear aligners may be able to reduce your pain and improve your jaw health.
Misaligned Bite: A Possible Cause of TMD
TMD can have many causes, and sometimes, there is no clear cause. However, a misaligned bite (malocclusion) is often to blame for problems with the TMJ. When your mouth is closed, both rows of teeth should rest comfortably together. If they do not meet in the proper way, your jaw has to strain to compensate for that misalignment when you are speaking or chewing. This extra stress can cause pain in the jaw and the surrounding muscles.
Some types of malocclusion that may lead to TMD include:
Underbite
Overbite
Open bite
Crossbite
Correcting Malocclusion with Invisalign
When Invisalign first stepped onto the scene a few decades ago, it was regarded primarily as a cosmetic treatment. Today, however, its capabilities have progressed by leaps and bounds. It is capable of correcting or reducing many different orthodontic problems, including some cases of malocclusion.
The aligners usually work along with other accessories to straighten the teeth and encourage the jaw to rest in the correct position. This can reduce inflammation and other symptoms of TMD. After several months of treatment, you might notice that your TMJ does not hurt as much.
Get Started on Treating TMD with Invisalign
If you are interested in pursuing Invisalign treatment with the goal of addressing your TMD, schedule a consultation with your dentist. They will evaluate the positioning of your teeth and jaw before they determine whether Invisalign is a fit for your circumstances. If it is, you will be able to get started on your treatment fairly quickly.
In rare cases, Invisalign has been known to worsen TMD pain. If your dentist sees that as a possibility for you, they will educate you about other ways to relieve TMD. Some patients are successful with at-home therapies, such as exercises and massage, while others might require surgery. Once your TMD is under control, you may be eligible for Invisalign if you are interested in straightening your teeth.
Invisalign is a remarkable treatment — it could play a role in relieving your TMJ pain! Your local dentist can help you determine whether it is suitable for you.
Meet the Practice
Four Town Dental in Enfield is proud to be able to provide Invisalign and other orthodontic treatments. We also offer other options that may be able to address TMD, including nightguards for bruxism (teeth grinding). If you are struggling with persistent jaw pain, our talented team of dentists and specialists is ready to help. Contact our office at 860-517-8758.