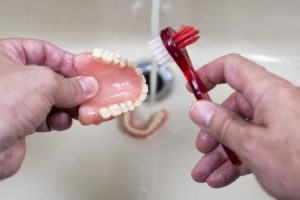 Oral hygiene is essential for everyone, including individuals who have lost their natural teeth and use dentures in Enfield instead. If you have a prosthetic, your diligence in keeping your mouth clean will reduce your risk of sores, infections, and unpleasant odors. However, you might have some questions about the best way to care for your replacement teeth. Is cleaning dentures without taking them out of your mouth an acceptable practice? In this blog post, we will discuss the answer to that important question and offer some tips for maintaining a fresh and healthy mouth.
Brushing Your Dentures Without Removing Them: Pros and Cons
Brushing your dentures without removing them from your mouth is unlikely to harm them. Just make sure you use a very soft-bristled brush and do not use any abrasive cleaning agents. Using this method to quickly clean your dentures after meals can help your mouth to maintain a fresh feeling.
Keep in mind, though, that there are also downsides to brushing your dentures without removing them. You may not be able to clean bacteria and food debris out of all of your prosthetic's little nooks, crannies, and crevices. You may thus be more vulnerable to odors and other problems. Therefore, if you choose to brush your dentures while they are in your mouth, this habit should supplementyour normal routine of removing them to clean them, not replace it. Removing your dentures to clean them allows you to reach all of your prosthetic's surfaces, and it gives you the opportunity to tend to your gums as well.
Thoroughly Cleaning Your Dentures
You should take your dentures out of your mouth at least once a day to give them a thorough cleaning. Here are a few tips to make your oral hygiene as effective as possible:
Use a soft brush that is designed specifically for use on dentures. Clean the dentures' underside as well as the teeth.
Stand over a soft surface, such as a folded towel or a sulk full of water, while you are cleaning your dentures. This will reduce the risk of them breaking if you accidentally drop them.
Keep your dentures moist. Soaking them in water or a cleaning solution overnight helps them to maintain their shape. Rinse them before replacing them in your mouth.
Clean your mouth by brushing your tongue, wiping your gums with a soft cloth, and rinsing with an antibacterial mouth wash.
Brushing your dentures while they are still in your mouth is possible, but it does not allow for thorough cleaning. Instead, remove your dentures and use the above tips to keep them as fresh and functional as possible.
Meet the Practice
The team of dentists and specialists at Four Town Dental is proud to offer a broad range of services, including traditional dentures, denture maintenance, implant dentures, and more. If you have questions about how to care for your prosthetic, we would be pleased to chat with you. Contact us at 860-517-8758.