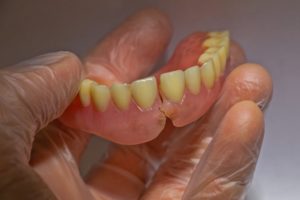 Dentures are a useful and aesthetically pleasing form of tooth replacement. Countless thousands of individuals rely on them for their eating and speaking needs. Unfortunately, though, they do not last forever. Replacing them on time can help you to avoid discomfort and reduced function. But how can you tell when it is time to bid farewell to your old prosthetic? In this blog post, we will discuss six possible indications.
Loose Dentures
Following the loss of natural teeth, the human body begins the process of resorption. Basically, this means that the jawbone begins to be recycled. It becomes smaller over time, which will eventually affect the way your dentures fit. If your dentures often slip out of place or you are using more adhesive than is recommended, get in touch with your dentist. They might be able to reline (adjust) the denture to renew its fit. However, it is also possible that you need to invest in a new prosthetic altogether.
Speech Difficulty
Your tongue and dentures work together to help you produce clear, crisp speech. Unfortunately, when your dentures no longer fit well, your pronunciation may suffer; your words could start to sound "slushy." Getting your denture relined or replaced may solve this problem.
Gum Pain
It should be easy for you to wear your dentures all day without experiencing any significant discomfort. If you begin to experience gum pain soon after you put your prosthetic in your mouth, or you have sores on your gums, it is definitely time to visit your dentist. Your denture might be damaged, or its fit might have changed.
Obvious Damage
If your denture breaks due to an accident or normal wear and tear, do not attempt to repair it on your own — and do not try to wear it while it is damaged. Instead, visit your dentist. They might be able to repair the prosthetic. If that is not possible, they will recommend that you purchase a replacement.
Discoloration
It is normal for dentures to become stained over time, especially if they are made out of acrylic. If your replacement teeth are suffering from obvious discoloration, it may be time to replace them purely for aesthetic reasons.
A Desire to Upgrade
Even if your current denture is still in good shape, you might want to replace it with a sturdier, stronger option. Implant dentures last much longer than their traditional counterparts, and they can keep the jawbone strong and whole. Your dentist can help you decide whether they are a fit for your circumstances.
Is it time to replace your dentures? If you think it is, your local team of restorative dentists is ready to help.
Meet the Practice
The dentists and specialists at Four Town Dental in Enfield proudly offer a wide range of restorative services, including traditional dentures, denture relines, and implant dentures. If you would like to explore your options for replacing an old prosthetic, we would be pleased to talk with you. Contact us at 860-517-8758.