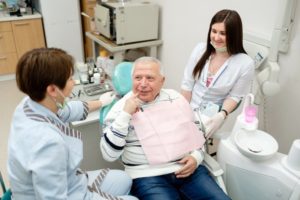 If you have a family member in an assisted living facility, it is important that you advocate for your loved one. You should communicate with the staff in the facility, understand what services are offered, and ask your family member how they feel in their living conditions. One aspect of care for the elderly that sometimes gets overlooked is dental health. In this blog post, a dentist for seniors in Enfield will discuss the importance of oral care for individuals in assisted living.
Common Dental Problems Among the Elderly
Anyone can suffer from dental problems, but some issues are particularly prevalent among people who are up in years. According to data from the CDC, almost two-thirds of people over the age of 65 have gum disease. In that same age group, nearly 20% of people have lost all of their teeth. Those who still have all or most of their teeth may find that time has caused their enamel to become worn thin, increasing their risk of sensitivity and other uncomfortable issues.
Left untreated, dental problems pose a serious threat to both the physical health and well-being of seniors. For example, gum disease is associated with an increased risk of dementia and heart problems. Badly damaged teeth may make it more challenging for seniors to eat a healthy diet. And the aesthetic aspects of dental issues, such as bad breath and stained teeth, may adversely affect seniors' confidence.
Helping Your Loved One
Ask the staff at your loved one's assisted living facility about how they address the oral health needs of their residents. Here are a few questions to get the conversation started:
Do you help your residents keep their dentures clean?
Do you have a concierge service and/or shuttle service to help residents make and attend appointments with their dentist in Enfield?
Do you assist residents with mobility issues to brush and floss their teeth?
Do you provide reminders to help residents keep up a good oral hygiene routine?
The answers to these questions vary from facility to facility. Some assisted living homes focus on helping residents be as independent as possible, so they may offer less in the way of one-on-one help with dental care. Others, particularly those whose residents have significant physical or mental health conditions, may take a more hands-on approach.
Depending on your loved one's abilities and their facility's policies, you can come up with a plan to help them care for their oral health needs.
A smile is a precious thing for individuals of all ages. Advocating for your elderly loved one's oral health can help them enjoy the best possible quality of life during their golden years.
Meet the Practice
The expansive team of dentists and specialists at Four Town Dental in Enfield provides comprehensive oral care to patients of all ages, including seniors. If you have questions about dental health for older individuals, or you would like us to play a role in caring for your loved one's oral health, contact us at 860-517-8758.