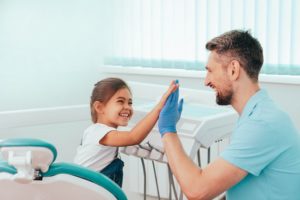 Most dentists advocate the use of dental sealants in Enfield for children who are starting to get their permanent teeth. This simple preventive treatment can be a powerful protection against tooth decay and help young ones enjoy strong, healthy smiles for many years. Before you invest in sealants for your child, however, you might have questions about them. In this blog post, we will address some points that many parents are curious about.
What Exactly Is a Dental Sealant?
A dental sealant is a thin barrier, usually made of a plastic material, that your dentist in Enfield or a dental hygienist applies to the chewing surfaces of teeth. Most dental sealants are clear. Although your child might be able to feel the sealant with their tongue after it is placed, they will soon get used to the sensation.
How Effective Are Sealants at Preventing Cavities?
Research has revealed that sealants can reduce the risk of cavities in molars by up to 80%! They are especially beneficial for children because many young ones have not yet mastered proper brushing and flossing habits. They need a bit of help to prevent food and bacteria from accumulating on the chewing surfaces of their teeth, especially if their teeth have deep grooves.
How Are Sealants Applied?
The process for applying sealants is painless and noninvasive. The dentist or hygienist cleans and dries the tooth, then roughens the tooth's surface with a mild acidic solution. After a few seconds, the acidic solution gets rinsed off, the tooth is dried, and the sealant is painted on. A special curing light hardens the sealant almost instantly.
How Long Do Sealants Last?
The lifespan of sealants varies. In a best case scenario, they can last for up to 9 years. If one of your child's sealants becomes dislodged before that, your dentist will notice during a routine checkup. Sealants that fall off are easy to replace.
Do Sealants Contain Any Toxins?
Sealants are safe for children. They do contain a tiny bit of BPA, but the amount is so small that it is hardly worth mentioning. In fact, you are exposed to more BPA when you touch a receipt or use certain types of cosmetics.
Does Dental Insurance Cover Sealants?
Most dental plans do cover sealants for children under 18. Often, they pay for 100% of the cost of the treatment. However, it is rarer for insurance to cover sealants for adults. If you wish to invest in sealants to protect your own molars, you may have to pay out of pocket.
Do you further questions about dental sealants? Your dentist would be happy to help you get the answers.
Meet the Practice
The four dentists and specialists at Four Town Dental enjoy serving patients of all ages, and they aim to help young ones establish the foundation for lifelong oral health. Dental sealants are among the many services we offer for children and adults. To learn more about how we can help your child to enjoy the benefits of a sound smile, contact us at 860-517-8758.