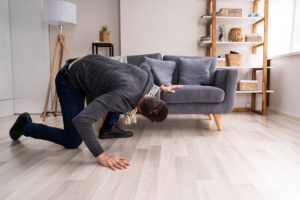 Everyone is familiar with the sense of dread that sinks in when an important item gets lost. That item might be your keys, a favorite piece of jewelry, or one of your aligners for Invisalign in Enfield. Your aligners are a key part of your treatment, and you may begin to wonder if losing one of them could derail your smile's progress. Do not worry. There are some practical steps you can take to get your treatment back on track as soon as possible.
Make a Careful Search
Of course, one of the first things you should do if you lose an aligner is make a careful search for it. Aligners are relatively small, and their transparent nature can make them hard to spot if they stray away from where you normally keep them. Check beneath the sofa cushions, in the garbage can, and the nooks and crannies of your purse. Gym bags, sports lockers, and the drawers in your office desk are other places where you might look.
Call Your Dentist
If your search for your aligner proves to be unsuccessful, give your dentist a call as soon as possible. They will advise you on what you should do. If you had just started wearing the lost aligner, you may be told to go back to wearing your previous aligner while you wait for a replacement to arrive. If you need a replacement, your dental team will give you an estimate of how long it will take to arrive and how much it will cost.
On the other hand, if you were almost finished with the lost aligner, it might be okay to move onto the next one a few days early. However, you should not do so without your dentist's or orthodontist's recommendation. Forcing your teeth to move too much too soon could be painful and may be harmful to your oral health.
Keeping Track of Your Aligners
Here are a few tips that many patients have found helpful for keeping track of their aligners:
Do not place your aligners in a napkin or on a lunch tray while you are eating — you might accidentally throw them away.
Purchase a small storage case, and always place your aligners in it when you are not wearing them or cleaning them.
Strive to keep your aligners in your mouth as much as possible, removing them only when you are eating, drinking anything other than plain water, or taking care of your oral hygiene.
If you lose track of one of your Invisalign aligners, do not panic. Your dental team is standing by to help you!
Get to Know Four Town Dental
We are proud to have a team of four dentists, including a highly trained orthodontist, in our practice. Invisalign is one of the many services we offer, and we are always ready to address our patients' questions and concerns regarding their treatments. We act fast to replace Invisalign aligners when necessary! If you would like to learn more about us and how we can serve you, contact us at 860-517-8758.