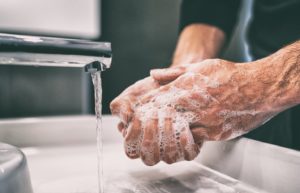 We have been dealing with a pandemic for most of this year, and now the arrival of the normal cold and flu season further heightens the risk of illness. It is important that everyone takes diligent measures to protect their overall health, as well as the health of others, during these uncertain times. Individuals who are using Invisalign in Enfield should be extra cautious. Here are some tips to help Invisalign patients protect their oral and overall health this fall and winter.
Only Touch Your Aligners with Clean Hands
Your hands may frequently touch public surfaces and may therefore harbor viruses, bacteria, and other substances that could cause you to become ill. Try to wash your hands before each time you handle your aligners, and be sure to use proper handwashing technique. If you do not have immediate access to soap and water, use an alcohol-based hand sanitizer instead.
Do Not Place Your Aligners on Your Desk
Researchers have found that the average desk contains 400 times more germs than the average toilet seat! In part, that is because toilets receive more frequent cleanings than most desks. However, even if you are in the habit of disinfecting your desk regularly, it would still be wise to play it safe and not lay your aligners on your desk's bare surface. Instead, keep your aligners in your storage case whenever you are not wearing them or cleaning them.
Stay Hydrated and Moisturized
The cold air outside, combined with hot forced air inside, can easily lead to dry mouth and dry, chapped lips. If you are fighting a cold or flu, you may be especially prone to these problems, which can cause discomfort. A dry mouth even increases your risk of tooth decay. Drinking plenty of water can help to moisten your oral cavity. If your lips are dry, use a colorless lip balm to soothe them (lip balms might leave a waxy residue on your Invisalign aligners, but this is usually easy to clean it off).
Remember that Germs Can Linger On Your Aligner
If you catch a cold or flu, you will not have to throw your aligner away after you recover. Just thoroughly clean it and continue to use it as normal; the chances of you becoming ill again from it are almost nonexistent. However, you should keep in mind that viruses and germs might linger on your aligners for a few days. Hence, it may be wise to temporarily avoid kissing your loved ones.
Cold and flu season is upon us! Invisalign wearers can reduce the risk to their oral and overall health by following the above tips.
Meet the Practice
Four Town Dental features a talented team of dentists, including an orthodontic specialist. Invisalign is among the many services we offer, and we are always ready to support our patients throughout their entire course of treatment. To learn more about us and how we may be able to serve you this cold and flu season — and on into the future — contact us at 860-517-8758.