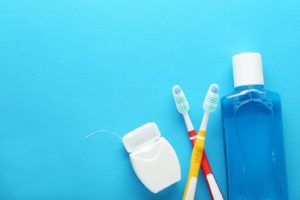 Covid-19 has changed the way most people approach life. It has even impacted the world of dentistry. The American Dental Association recommends that dentists suspend normal operations and only provide emergency care at this time. Has your necessary dental treatment been postponed due to concerns about Covid-19? Until you can visit your dentist, use the below tips to help you keep up with your dental hygiene through the quarantine. You can thus prevent new oral health problems and prevent current ones from rapidly worsening.
Thoroughly Brush Your Teeth
You may already have the excellent habit of brushing your teeth twice a day. However, you might find the following reminders on brushing technique to be beneficial:
Be thorough. Many people accidentally forget to brush the backs of their teeth or the area along the gum line.
Be gentle. Applying too much pressure when you brush your teeth can irritate the gums and prematurely wear away at your tooth enamel.
Be patient. You should brush your teeth for at least two minutes. Some electric toothbrushes even have a feature that helps you to distribute your brushing time evenly across all sections of your mouth.
Floss Every Evening
Flossing cleans out the tight spaces between the teeth that your toothbrush cannot reach. When you floss, be sure to clean the sides of your teeth. That means you should move the floss along both teeth that surround a space, not just insert the floss into the space and quickly pull it out. Also, be sure to be gentle; do not "snap" the floss between your teeth.
You should floss once a day, preferably in the evening. Flossing before bedtime greatly reduces the amount of bacteria and food particles that can cling to your teeth overnight and have the opportunity to cause damage.
Use a Mouthwash
Rinsing with a mouthwash for 30 – 60 seconds, either before or after you brush your teeth, can be greatly beneficial. It can help to clean all the little nooks and crannies in your mouth. When you are shopping for mouthwash, try to pick one that is designed to address your specific oral health needs. For example, if you are awaiting a filling, choosing a fluoride-containing mouthwash can prevent your cavity from getting worse. If you have a pending gum disease treatment, a mouthwash that aims to fight gingivitis may be best.
Schedule Your Next Dental Appointment ASAP
When Covid-19 is no longer a threat, dental offices will resume normal operations — and they may be much busier than usual. Scheduling your next appointment now will ensure that you receive necessary treatment in a timely manner.
Has your dental treatment been postponed due to Covid-19? The above tips can help you to protect your oral health through the quarantine.
A Note from Four Town Dental
Drs. Elias Deros and Venu Chimmiri dearly miss our practice's family of patients. However, out of concern for their health, as well as the health of our staff members, we are currently only providing emergency care. We plan to resume normal operations sometime after April 6. To learn more about how we are helping to fight the spread of Covid-19, or to schedule your next appointment, contact us at 860-749-6088.