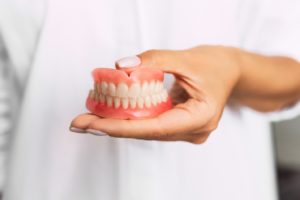 Gum disease is one of the leading causes of tooth loss. If you have suffered from gum disease and have recently been treated for it, your mouth is in the process of healing. Unfortunately, any teeth you lost due to gum disease will not regrow on their own. It would be wise of you to explore your options for tooth replacement. In this post, we discuss why gum disease can cause tooth loss and why dentures are  good idea after suffering from gum disease.
The Effects of Gum Disease
Gum disease is an infection of the gum tissue. In mild cases, it causes inflammation and pain. In more severe cases, the infection invades the nearby bone tissue. It can thus eat away at the jaw and compromise the teeth's base of support. If enough bone is lost, the teeth become loose. In some cases, the bone loss is so severe that the teeth fall out, or it becomes necessary to extract them.
While your dentist will do all they can to help you prevent such an outcome, in some cases, tooth loss due to gum disease is inevitable. If that happens to you, your dentist may encourage you to invest in dentures.
Why Dentures Are a Good Option for Tooth Replacement
Dentures are a good option for replacing teeth because:
Traditional dentures are more affordable than other tooth replacement options. Dental insurance is usually willing to cover at least a portion of the cost.
Even if you have lost a significant amount of bone, you may still be a candidate for dentures.
The process for getting dentures is relatively quick.
Dentures provide natural-looking aesthetics and can restore a good measure of dental function.
Dentures are versatile. If you still have some of your natural teeth, and they are in good health, partial dentures can fill in the empty space without making it necessary to remove your existing teeth. For patients who have no remaining natural teeth, full dentures may be the best option.
Services You Might Need Prior to Getting Dentures
Before you are eligible for dentures, you may need to have a few teeth extracted. Your dentist will also want to do everything possible to help you fight your gum disease, a process that may involve scaling and root planing as well as other forms of periodontal therapy. Some patients opt for implant-supported dentures rather than traditional ones. If you choose to receive dental implants, you may need a bone graft to build up your jawbone.
The physical and emotional consequences of gum disease-related tooth loss can be devastating. Fortunately, thanks to dentures, you are not doomed to suffer from an incomplete smile forever.
Meet the Practice
Drs. Venu Chimmiri and Elias Deros are the dentists at Four Town Dental. Both have extensive experience in restorative dentistry, and they offer periodontal therapy as well. To learn more about how they may be able to help you recover from gum disease and the resulting tooth loss, contact us at 860-749-6088.