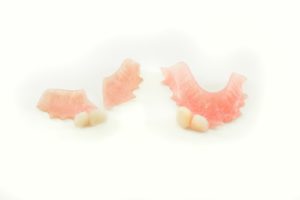 Tooth loss can have a detrimental effect on your daily activities, but dentures can solve many of the problems associated with missing teeth. They can enable you to smile with confidence and eat most foods without worry. Unfortunately, however, dentures are not invincible. A mishap may break your dentures at any time. If that happens, what should you do? In this blog post, we discuss the answer to that important question.
Evaluate the Damage
If your denture breaks while it is in your mouth, remove it and dry it off. Carefully look it over to assess the damage. Did a tooth come lose? Did the base break or crack? Are there any pieces missing? Depending on the extent of the damage, you might be able to tell whether it is possible to restore your prosthetic or if you need a new one altogether.
Do Not Try to Repair the Damage Yourself
You might be tempted to hop on YouTube and search for videos that give tips on denture repair. While some of those people might know what they are doing, most of them are still not dental professionals. They type of denture they demonstrate repairs on may be completely different from yours. If you follow their guidance, you may end up doing more harm than good. You could even damage your gums or your remaining natural teeth if you try to wear a denture that you repaired by yourself.
Stop Using Your Denture
You rely on your denture to make your daily activities easier, so you might be tempted to wear it even if it is broken. That is unwise. The broken parts of the denture could easily irritate the soft tissues in your mouth. Plus, you might end up causing further damage to the dentures if you attempt to eat with them while they are broken. It is best to store your denture in water or a denture soaking solution rather than wear it. Until you can get it repaired or replaced, stick to eating soft foods that you know you can easily consume without your prosthetic's help.
Call Your Dentist
When your denture breaks, call your dentist as soon as possible. Describe the damage, and your dentist will advise you on the specific steps you should take the deal with the situation. They will likely recommend that you make an appointment within the next day or two so they can take a look at the denture and determine whether it should be repaired or replaced. They may also want to examine your mouth to make sure the broken denture did not harm you.
A broken denture can be quite frustrating, but you can manage the situation by following the above guidance. Hopefully, it will not be long before you once again have a complete and functional set of teeth.
About Our Practice
Drs. Venu Chimmiri and Elias Deros are proud to serve as your dentists in Enfield. They offer a number of restorative services, including dentures. They also accept emergency patients, so if your denture breaks, they will work to see you and help you as soon as possible. To learn more about them and the other professionals at Four Town Dental, contact our team today at 860-698-1428.