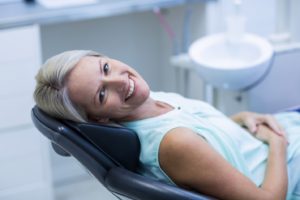 If you have lost a few, most, or all of your teeth, it is necessary that you consider your tooth replacement options. During your research, you will quickly discover that your choices boil down to two main categories: traditional tooth replacement options, such as dentures, or implant-supported prosthetics. Which type is better? In this blog post, we discuss each treatment and provide you with some guidance that can help you settle on the choice that is best for your unique circumstances.
Traditional Dentures
There are two types of traditional dentures: A full denture replaces a whole arch of missing teeth. It has a gum-colored base that supports acrylic or porcelain teeth. It is removable, and it remains in the mouth with the help of natural suction or a special adhesive. A partial denture fits in around the remaining natural teeth to replace multiple teeth at various places throughout a dental arch. It is also removable. Small metal attachments help it to remain in place.
Both full and partial dentures are relatively affordable and can restore a degree of chewing function. They can also look quite pleasing. However, they do come with some drawbacks. For example, they usually last for just a few years, and you must take precautions when you eat so they do not become destabilized.
Dental Implants
Dental implants are small cylinders, usually made out of a titanium alloy, that serve as substitutes for the roots of missing teeth. They can support practically any type of restoration, including crowns, bridges, and dentures. Thus, they are a suitable treatment for any level of tooth loss. Because dental implants bond with the bone around them, they provide an extremely sturdy base for the teeth they support. The dental implant treatment process takes several months, but in the vast majority of cases, it produces truly stunning results. Many dental professionals regard dental implants as the next best thing to natural teeth.
Which Is Right for You?
Traditional dentures may be perfect for you if you:
Want an affordable and quick way to replace your missing teeth. Insurance usually covers dentures, and the denture process may take just a few weeks to complete.
Do not have adequate bone volume in your jaw to support dental implants, or you are unable to receive dental implants for other health reasons.
On the other hand, dental implants might be a fit if you:
Want the longest-lasting and strongest tooth replacement that modern dentistry has to offer.
Are in fair oral and overall health.
Would like your prosthetic to look and feel as natural as possible.
Both dentures and dental implants offer reliable tooth replacement. Your dentist can help you understand the pros and cons of each choice so you can decide on the one that best fits your needs and circumstances.
Meet the Dentists
Drs. Venu Chimmiri and Elias Deros are the team of dentists that leads our team. They have the training and experience necessary to provide functional, aesthetically pleasing tooth replacements, including both traditional dentures and dental implants. If you would like to speak to one of them about rebuilding your lost teeth, contact Four Town Dental Care today at 860-698-1428.