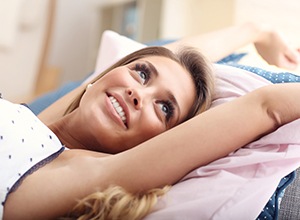 In June of last year, Barnes & Noble reported that book sales related to anxiety increased by 26 percent over the previous year. Clearly, anxiety is a nationwide issue that demands our attention. Indeed, everyone feels anxious from time to time — however, for some individuals, anxiety presents a constant struggle.
Recent research indicates a close link between sleep deprivation and anxiety, as well as a connection between sleep disorders and anxiety. In this post, we will take a look at some of the relevant studies. It is possible that for some people, improving the quality of their nightly rest could lead to improved emotional health.
Research Reveals a Connection
At the annual meeting for the Society of Neuroscience last December, sleep researchers at the University of California, Berkeley, shared the results of their fascinating anxiety study, which tracked the anxiety levels of 18 individuals. After either a night of no sleep or a night of sleep, the participants took an anxiety test. The results? The anxiety level of sleep-deprived people was 30 percent higher than that of those who had slept the previous night. On average, the anxiety levels of the sleep-deprived individuals were on par with those who had been diagnosed with anxiety disorders.
It is common knowledge that those who suffer from anxiety disorders often find it difficult to sleep, but this study shows that the relationship between sleep and anxiety is a two-way street. A sleepless night can cause anxiety, and, in turn, anxiety can rob a person of sleep.
The study also included functional MRI scans of the participants. The scans found that in the sleep-deprived individuals, the brain areas that control emotion showed more activity, and the part of the brain that fights anxiety had diminished activity.
Anxiety and Sleep Disorders
Logically, since sleep deprivation can cause anxiety, sleep disorders — which negatively affect the quality and quantity of sleep — can also contribute to anxiety.
A 2014 study on the correlation between anxiety, depression, and obstructive sleep apnea (OSA) examined 178 adults with OSA. The study revealed that more than half of the participants suffered from some degree of anxiety. The results also demonstrated that the anxiety levels of patients with OSA was higher than in the general population.
What Can You Do?
If you suffer from sleep problems and anxiety, it may benefit you greatly to seek professional care. A sleep study may reveal whether you have a sleep disorder, such as OSA. If you do have OSA, oral appliance therapy from a qualified dentist may be just what you need to reduce your anxiety. On the other hand, if anxiety is robbing you of sleep, your primary care practitioner may prescribe medication or counseling to help you cope.
Your emotional health and the quality of your sleep are linked — getting more high-quality shuteye may be the key to living a happier, healthier life.
Meet the Dentists
Drs. Venu Chimmiri and Elias Deros lead the team of professionals at Four Town Dental. They are proud to offer a number of advanced services, including sleep apnea therapy. If you have been diagnosed with OSA and would like to find out whether an oral sleep appliance could benefit you, contact our team today at 860-749-6088.