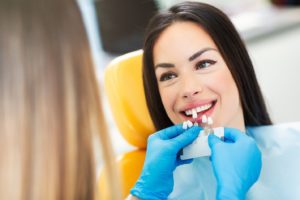 Dental crowns and porcelain veneers have a few things in common. For example, they can both improve the appearance of teeth. They are both custom-made to fit with a patient's unique teeth. However, these two treatments are different in a number of ways. In this blog post, we discuss some of those differences. Armed with the following information, you will have a better idea of what to expect when you visit your dentist to talk about these dental treatments.
Purpose
The biggest difference between crowns and veneers is their purpose. Although either treatment can be used to improve the way teeth look, a crown is more commonly used to repair and protect a tooth. For example, it might be used on a tooth that had a big cavity or that underwent root canal therapy. Crowns are able to safeguard teeth because they cover the entire portion of the tooth that is above the gum line.
Veneers, on the other hand, are purely for cosmetic purposes. They only cover the front portion of a tooth, thereby disguising flaws like discoloration, cracks, chips, and minor misalignment.
Materials
Dental crowns can be constructed out of a range of materials, including gold, silver, and other metals. They might also be made out of porcelain-fused-to-metal or 100 percent porcelain. The type of crown that is best for a patient depends on which tooth is being treated, the patient's budget, and their personal preference.
Porcelain veneers are always made out of 100 percent porcelain. This material is designed to imitate the look and feel of real tooth enamel, a fact that enables veneers to be virtually indistinguishable from natural teeth.
Thickness and Tooth Preparation
A veneer's goal is not to protect anything. Rather, is it there simply to make a tooth look good. A veneer can be incredibly thin and still serve its purpose; in some cases, a veneer is less than a millimeter thick. The thinner a veneer is, the less preparation is necessary for the tooth that is going to support it.
Dental crowns tend to be thicker, even when they are made out of porcelain. Their thickness means that more tooth preparation is required. Dentists must shape the tooth so it fits entirely beneath the crown without negatively affecting the patient's bite.
Cost
Veneers generally present a higher out of pocket cost than crowns for a few reasons:
Patients usually get multiple veneers, but in most cases, a patient does not need more than one crown.
Dental insurance usually covers crowns because they are a restorative treatment. It does not cover veneers.
Do you need a dental crown? Or are veneers more suited to your situation? A consultation with your dentist can help you determine which treatment is best for you.
About the Author
Dr. Venu Chimmiri is one of two remarkable dentists here at Four Town Dental. He has even been recognized as one of the state's top dentists! He offers a range of cosmetic and restorative services, including both crowns and veneers. If you would like to speak to Dr. Chimmiri and our team about improving the health and/or appearance of your teeth, contact our office today at 860-749-6088.