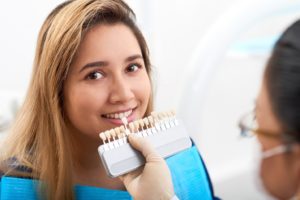 Deciding to commit to porcelain veneers is a big decision — but even after you are certain that you want veneers, you still have an important choice ahead of you. What color should your veneers be? The porcelain comes in a wide variety of shades, and the one that is right for you will depend on a number of factors. In this post, we discuss how you and your cosmetic dentist can settle on the ideal hue for your veneers.
Do Not Insist on Bright White
Your desire for whiter teeth may be one of the reasons why you decided to invest in porcelain veneers. However, that does not mean you should insist on having extremely bright veneers. Choosing a shade that is too white will automatically signal onlookers that your teeth are not natural. The bright color could even clash with your skin tone and actually make you look less attractive. Your cosmetic dentist has experience in helping patients choose the right level of brightness, so trust their opinion when you are in the process of planning your treatment.
Look at Pictures to Gain Realistic Expectations
If you perform an online search for porcelain veneer photos, you will see the results of other people's treatments. Pay special attention to the color of the veneers and note how it interacts with the person's skin color, skin undertones, and eye color. Also note the age of the individuals in the photos. In general, older people may look the most natural if their veneers are a soft white color. Younger people, on the other hand, may get the most satisfactory results from brighter shades.
Understand Translucency
Veneers are very thin, which means they can be crafted to be quite translucent. The translucent material allows light to pass through, which can let your natural teeth play a role in the way your veneers look. You also have the option of choosing more opaque veneers, which allow less light through and provide a more complete disguise for the teeth beneath them.
Consider the Teeth that Will not Receive Veneers
Many patients choose to receive just a few veneers rather than a full set. If that is true of you, you will still have some of natural teeth showing when you smile. You may choose to get them whitened prior to your veneer treatment. Then, your dentist can help you choose a veneer shade that most closely matches the color of your natural teeth.
There are a number of factors to consider when you are choosing the color of your porcelain veneers. Describe your desired look to your dentist, and they will help you pick a shade that is beautiful but not overbearing or unnatural-looking.
About the Author
Dr. Venu Chimmiri is an accomplished general and cosmetic dentist who understands both the art and science of porcelain veneers. If you would like to learn more about veneers, he would be happy to answer all of your questions. You can get in touch with our office via our website or by phone at 860-749-6088.