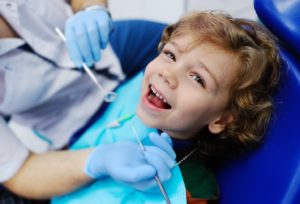 Dental care is important for individuals of all ages, including children who do not yet have their permanent teeth. Unfortunately, however, some parents make the mistake of not bringing their child to the dentist for routine care. In this article, we will discuss why caring for primary (baby) teeth is so important and why your family dentist in Enfield is essential for helping your child maintain sound oral health.
The Importance of Primary Teeth
Primary teeth are temporary, but that in no way makes them unimportant. They deserve adequate care because:
They are placeholders for permanent teeth. If primary teeth fall out too early, that can affect the way the permanent teeth develop.
Problems with primary teeth can adversely affect many aspects of a child's life. Deep dental decay is just as painful in primary teeth as it is in adult teeth. The discomfort that a child experiences due to oral health problems can have a negative impact on their mood, their school performance, their dietary habits, and their self-esteem.
The Role of Regular Dental Visits
Although you may be doing all you can to help your child care for their teeth at home, that does not eliminate the need for regular dental visits. Children should receive a cleaning and checkup approximately once every six months. The cleanings play an important role in preventing cavities. During routine exams, the dentist will look for signs of developing oral health problems and may be able to address such issues before they become severe and/or painful for the child.
These visits will also help your child to develop a trusting relationship with the dentist and adopt a positive view of professional oral healthcare. You will find this to be especially true if you and your child visit the same family dentist. Your good example will go a long way toward influencing your child's attitude toward dental care.
The Value of Establishing Good Habits Early On
Teaching your child may seem like a daunting challenge, so you might be tempted to wait to instill the importance of oral healthcare in them until after their permanent teeth start to grow in. However, such thinking is erroneous because the earlier you teach them good habits, the more likely those habits are to stay with your child for a lifetime. Your family dentist and the hygienists in the dental office will be pleased to help you educate your child on oral care concepts.
Your child's oral health is extremely valuable. You have every reason to help your young one care for their primary teeth now so they can enjoy many decades of functional, healthy smiles.
About the Author
Dr. Venu Chimmiri is an accomplished dentist who works alongside Dr. Elias Deros and the rest of our team at Four Town Dental to provide gentle, high-quality care to families in Enfield. He is a Fellow of the Academy of General Dentistry, and he has been recognized as one of Connecticut's top dentists. To learn more about our practice or to schedule an appointment for your child, contact us today at 860-749-6088.