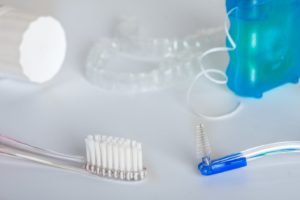 Many patients value Invisalign for its ability to discreetly and effectively correct orthodontic problems. They also enjoy the treatment's convenience; the removable nature of the aligners makes it easy to maintain oral hygiene. For the treatment to be successful, however, it is important that you regularly spend time on cleaning your aligners and not just the teeth beneath them. Here is an overview of some of the Dos and Don'ts you should apply in order to keep your Invisalign trays clean, fresh, and functional.
Do Clean the Aligners Every Morning and Evening
It is a wise practice to clean your aligners twice a day — once when you wake up, and once before you go to bed. Doing so in the morning lets you clean out any bacteria that may have accumulated in the aligners throughout the night. Your evening cleaning routine is essential for vanquishing any food particles or bacteria that might still be lingering in the aligners after a day of normal eating and drinking.
Do Soak Your Aligners Daily
Giving your aligners a good soak once a day helps to keep them fresh and prevent unpleasant odors. You may use a denture cleaning solution for this. Or, you can purchase special cleaning crystals from Invisalign.
Do Rinse Your Aligners Every Time You Take Them Out
Whenever you remove your aligners to eat a meal, drink any beverage other than plain water, or for any other reason, give them a quick rinse. Doing so will help to prevent dried saliva and plaque from building up in them.
Don't Use the Wrong Cleaning Materials
It is important that you are gentle when you are cleaning your aligners. Use a soft-bristled toothbrush (not the same one you use on your teeth). Also, use a clear, antibacterial soap to clean them. Using toothpaste or any colored soap on them is inadvisable because such substances might scratch or stain the aligners.
Don't Leave Your Aligners Out in the Open
Bring your Invisalign case with you wherever you go so you can properly store your aligners when they are not in your mouth. Leaving them out in the open exposes them to extra bacteria. It also increases the chances that you will accidentally damage or lose one of them.
Don't Let Your Teeth Contaminate Your Aligners
After you eat a meal, it is a good idea to give your teeth a quick cleaning before you place your aligners back in your mouth. Failing to do so will let the aligners trap food particles and bacteria against your teeth. Not only will this increase the risk of your aligners becoming stained or foul-smelling, but it is also bad for your teeth. Therefore, you should keep a toothbrush, toothpaste, and floss with you at all times.
Are you taking proper care of your Invisalign aligners? Use the above tips to ensure that they stay as fresh and clean as possible throughout your treatment.
Meet the Authors
Drs. Venu Chimmiri and Elias Deros of Four Town Dental are committed to providing skilled, compassionate care to residents of Enfield and the surrounding areas. Both doctors are certified Invisalign providers. To learn more about our practice or to schedule a consultation, contact our office at 860-749-6088.