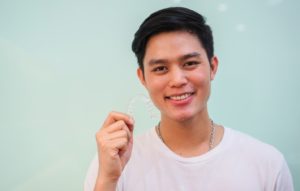 Do you have misaligned teeth? Orthodontic treatment can do more than improve the way your teeth look. It can also reduce your risk of dental decay, help your jaw joint to function at its best, and prevent premature wear and tear to your teeth. While you may recognize the value of orthodontic treatment, you may still have questions about it — particularly if you are considering Invisalign in Enfield, which is somewhat different from traditional metal braces. This article discusses how Invisalign works and what you can expect during your treatment.
How Invisalign Moves Teeth
Traditional metal braces work by applying gentle, sustained pressure to teeth via a brackets and wires. Invisalign also applies pressure to teeth. However, instead of using metal brackets and wires, it employs a series of clear, thermoplastic aligners. The aligners are custom-designed for each patient's unique dental structures.
You wear each aligner as much as possible (20 – 22 hours each day). Once every two weeks or so, you move on to the next aligner in the series. Each time you do so, your teeth move a little closer to their ideal positions. After you work your way through all of your aligners, you will be able to enjoy all the benefits of a well-aligned set of teeth.
The Invisalign Process
If you are interested in using Invisalign to address your orthodontic issues, schedule a consultation with a certified Invisalign provider. They will evaluate your teeth and talk to you about your goals and expectations for treatment. If they determine that Invisalign is a fit for you, they will begin to design your aligners. First, they will use take images and impressions of your teeth. Then, they will use advanced software to create a custom treatment plan. They will send that data to the Invisalign laboratory.
After Invisalign fabricates your aligners, you will begin to wear them. Throughout your treatment period, you must periodically visit your dentist for brief checkup appointments so they can ensure that Invisalign is doing its job and provide you with the next few aligners in your series.
After you work your way through all of your aligners, you will be given a retainer, which will prevent your teeth from drifting back out of place. It is important that you wear the retainer as much as your dentist recommends. At first, you will likely need to wear it full-time. After a while, however, you may graduate to wearing it for just a few nights each week.
Invisalign is an effective, discreet way to straighten teeth. It combines the tried and true methods of traditional orthodontics with advanced modern technology. It might be exactly what you need to achieve a healthier, more attractive smile!
About Four Town Dental
Drs. Venu Chimmiri and Elias Deros work together at Four Town Dental to provide high-quality dental care to the Enfield community. Both doctors are certified Invisalign providers. If you would like to talk to one of them about straightening your teeth with Invisalign, contact our team today at 860-749-6088.