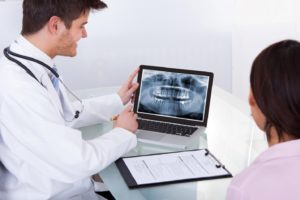 Busyness is a fact of life, so if you need to have oral surgery in Enfield, you might hesitate to make room in your schedule for a separate consultation appointment. You may wonder why you can't just schedule your surgery, review some simple pre-op instructions, and jump right into your procedure. However, a consultation is always a good idea before any major oral surgery. Let's discuss some of the things that you and your dentist can accomplish at this important appointment.
Surgical Planning
Even if you have been a patient at a dental practice for years, you should not assume that their records of your dental health are up to date. Your mouth may have undergone changes since your last appointment that can have a bearing on your surgery. During your consultation, your dentist may take some X-rays and evaluate your oral health so they know exactly what they'll be working with during your surgery.
Overall Health Evaluation
When you visit your dentist in Enfield for your surgery consultation, be sure to bring a current list of all your medications with you. You may have to adjust the dosage of some of these before your surgery to ensure that your procedure is as safe as possible. Also, because some drugs interact poorly with one another, your list of medications will have an impact on the method that your dentist uses to sedate you during the surgery.
Your oral surgeon may need to take certain medical conditions into account. For example, patients with diabetes are often at a higher risk of infection. Pregnant women should wait until after they give birth to undergo oral surgery unless their condition is a true emergency. Tobacco use is also something that your dentist will talk about with you; although using tobacco is never a good idea, it is especially important that you avoid it in the time leading up to your oral surgery because it can slow down your recovery.
Information Exchange
During your consultation, you should take the time to ask about any concerns that you might have about your upcoming procedure. Here are a few ideas to help you start forming your list of questions:
Will I need to take time off of work or school to recover from my surgery? How long?
How long after the surgery will it take for my mouth to feel normal again?
Is surgery really the best option? Are there alternative treatments that might also work?
What type of sedation do you plan to use? Are there possible side effects?
What can I expect on the day of the surgery?
An oral surgery consultation establishes the foundation for a successful procedure. Prepare well for this appointment so you can commit to your treatment with confidence.
About the Author
Dr. Venu Chimmiri earned his Doctor of Dental Surgery degree in 2004. Since then, he has continued his training and gained much experience that has equipped him to successfully perform several types of oral surgery. If you would like to speak to Dr. Chimmiri about your unique dental needs, contact our office at 860-856-6928.